This Week On Angler Chronicles
Posted by admin on August 26, 2016

Celebrating thirty years as one of the premiere ¾ day operations on the west coast, the "One and Only" FREELANCE is host to Angler Chronicles this week.  Sergio and Captain Don Brockman have combined to put together the ultimate reunion of great fishermen who have all received their start aboard the FREELANCE.
It's a rare day when this many close friends have the opportunity to go fishing together.  And the fishing completely pegs the needle.  Wide open fishing for Yellowfin Tuna, Dorado and huge Yellowtail make this episode of Angler Chronicles a Must See.
Don't miss this fantastic episode.  Great family entertainment.
Sunday, August 28 - 8:30 A.M.  FOX Sports West
Monday, August 28 – 10 A.M. FOX Sports Prime Ticket
Tuesday, August 30  – 2:00 P.M.  FOX Sports West
FOX Sports West Television and throughout all of North America on DirecTV and DishNetwork.
---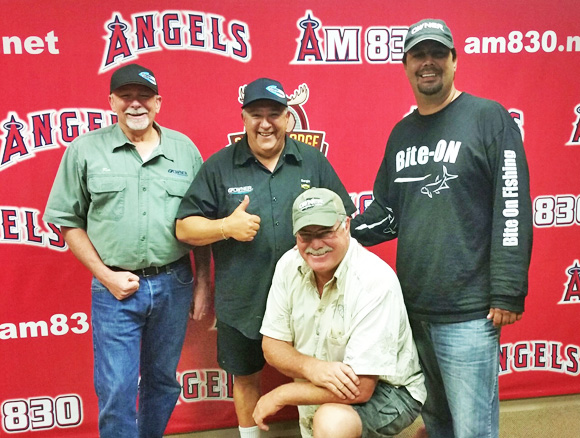 Join Sergio & the Crew: Ron Hobbs (Owner Hooks Fishing Schools Instructor), Capt. Larry Moore and Tony Williams (Bite-On Fishing) every Saturday morning on Radio Outdoor Expeditions from 5:00-7:00 AM PST on AM 830 KLAA. "LIVE" from Angel Stadium in Anaheim, CA. ... Tune in or you can also join us "LIVE" on the web at: www.am830.net
Get all the latest news on fishing our local waters directly from the captains! 
---
The Angler's Edge to Catch More Fish!

Thanks for joining us. Come back often for the latest fishing news on and off the water. Our Sports Media Franchises: TV, Radio, Internet, & Social Media, provide you with an arsenal of information to give you an edge! ... From hot new baits to tips and techniques to keep your deck hopping, Angler Chronicles has got you covered. So click around and lets us know what you think and we'll see you on the water - Angler Chronicles
---