This Week On Angler Chronicles
Posted by admin on October 21, 2016

A new world record of more than $250,000.00 was raised for the children of Olive Crest at this year's OLIVE CREST Pro/Am.  The sixth annual Olive Crest Tournament was presented by Brant McGlothlin with Carne De Theresa and Angler Chronicles, "Sergio," this year's Pro/Am was unbelievable.
The Olive Crest Pro/Am is a saltwater bass fishing tournament and lots of quality Calicos were caught as well as Sand Bass and Spotties.  Great aerial cinematography by award winning outdoor videographer, John Senften, makes for a fabulous Olive Crest Pro/Am episode.
Don't miss this 6th annual Olive Crest Tournament on FOX.  Great Family Entertainment!
Sunday, Oct 23  –  8:30 A.M.   FOX Sports West
Sunday,  Oct 23  -  11:00 A.M.  FOX Prime Ticket
Monday, Oct 24 – 10:00 A.M.  FOX Prime Ticket
Tuesday, Oct 25 – 2:30 P.M.  FOX Sports West
Also on Satellite via DishNetwork and DirecTV
---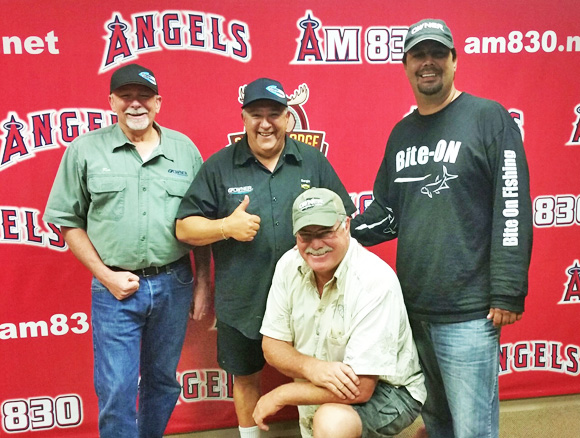 Join Sergio & the Crew: Ron Hobbs (Owner Hooks Fishing Schools Instructor), Capt. Larry Moore and Tony Williams (Bite-On Fishing) every Saturday morning on Radio Outdoor Expeditions from 5:00-7:00 AM PST on AM 830 KLAA. "LIVE" from Angel Stadium in Anaheim, CA. ... Tune in or you can also join us "LIVE" on the web at: www.am830.net
Get all the latest news on fishing our local waters directly from the captains! 
---
The Angler's Edge to Catch More Fish!

Thanks for joining us. Come back often for the latest fishing news on and off the water. Our Sports Media Franchises: TV, Radio, Internet, & Social Media, provide you with an arsenal of information to give you an edge! ... From hot new baits to tips and techniques to keep your deck hopping, Angler Chronicles has got you covered. So click around and lets us know what you think and we'll see you on the water - Angler Chronicles
---