This Week On Angler Chronicles
Posted by admin on September 16, 2017
Join Sergio and the Angler Chronicles Crew as they rediscover the City of Lake Elsinore, California surrounding the only completely natural lake in Southern California. The City of Lake Elsinore is indeed the "Action Sports Capital of the World" featuring year-round fishing, Lake Elsinore Storm Baseball, skydiving, hand gliding, water skiing, boating, golf, motocross, Lucas Oil Racing, fine dining, shopping, and so much more! It's all here in Lake Elsinore, the city of Dream Extreme!
The City of "Dream Extreme."  Entertaining, educational and informative
A must see and great family entertainment !
Sunday, September 17  -  8:30 A.M    (FOX Sports West)
Sunday, September 17  - 10:00 A.M.  (FOX Sports Prime Ticket)
Tuesday, September 19  -  2:00 P.M.  (FOX Sports West)
Sunday, September 24  - 8:00 A.M    (FOX Sports West)

FOX Sports West Television (HD), DirecTV, DishNetwork
---
Posted by admin on February 6, 2017
Description:
Topic: Fresh Water Updates
Ideas for bass fishing
Single Hook replacement 
Guests: Steve Carson
Call in guest: Rich Lingor
---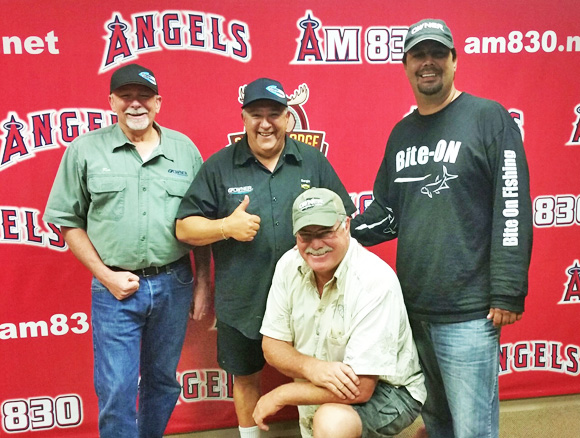 Join Sergio & the Crew: Ron Hobbs (Owner Hooks Fishing Schools Instructor), Capt. Larry Moore and Tony Williams (Bite-On Fishing) every Saturday morning on Radio Outdoor Expeditions from 5:00-7:00 AM PST on AM 830 KLAA. "LIVE" from Angel Stadium in Anaheim, CA. ... Tune in or you can also join us "LIVE" on the web at: www.am830.net
Get all the latest news on fishing our local waters directly from the captains! 
---
The Angler's Edge to Catch More Fish!

Thanks for joining us. Come back often for the latest fishing news on and off the water. Our Sports Media Franchises: TV, Radio, Internet, & Social Media, provide you with an arsenal of information to give you an edge! ... From hot new baits to tips and techniques to keep your deck hopping, Angler Chronicles has got you covered. So click around and lets us know what you think and we'll see you on the water - Angler Chronicles
---