This Week On Angler Chronicles
Posted by admin on May 25, 2017
The 2017 Dream Extreme Fishing Derby in Lake Elsinore was a huge success with record breaking attendance and prizes.  This is our Fifth Annual Dream Extreme Fishing Derby and it only gets bigger and better.  And with amazing aerial cinematography from John Senften, you will get to see beautiful Lake Elsinore as you have never seen it before.
Go along with Sergio and the Angler Chronicles crew as they enjoy a great weekend of fishing, parties and awards ceremonies presented by the Lake Elsinore Casino.
Sergio always points out that this is a "Fun Derby" and not a fiercely competitive tournament and 2017 was no exception.  Huge raffles with great prizes as well as big cash payouts. 

Catfish, Wipers, Largemouth Bass, Crappie and Carp are all eligible, but the big Blue and Channel Catfish did steal the show.
Don't miss "Dream Extreme 2017."  Great family entertainment !
Sunday,  May 28 – 8:30 A.M.  FOX Sports West
Sunday, May 28 – 10:00 A.M. FOX Sports Prime Ticket
Tuesday, May 30  – 2:00 P.M.  FOX Sports West
Sunday,  June 4  – 8:00 A.M.  FOX Sports West

Also via satellite on DishNetwork and DirecTV throughout all of North America
---
Posted by admin on February 6, 2017
Description:
Topic: Fresh Water Updates
Ideas for bass fishing
Single Hook replacement 
Guests: Steve Carson
Call in guest: Rich Lingor
---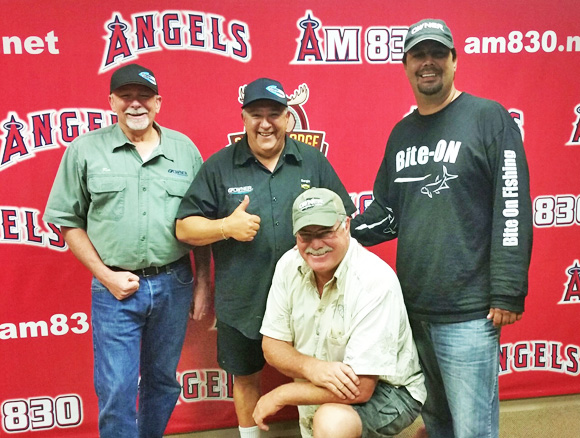 Join Sergio & the Crew: Ron Hobbs (Owner Hooks Fishing Schools Instructor), Capt. Larry Moore and Tony Williams (Bite-On Fishing) every Saturday morning on Radio Outdoor Expeditions from 5:00-7:00 AM PST on AM 830 KLAA. "LIVE" from Angel Stadium in Anaheim, CA. ... Tune in or you can also join us "LIVE" on the web at: www.am830.net
Get all the latest news on fishing our local waters directly from the captains! 
---
The Angler's Edge to Catch More Fish!

Thanks for joining us. Come back often for the latest fishing news on and off the water. Our Sports Media Franchises: TV, Radio, Internet, & Social Media, provide you with an arsenal of information to give you an edge! ... From hot new baits to tips and techniques to keep your deck hopping, Angler Chronicles has got you covered. So click around and lets us know what you think and we'll see you on the water - Angler Chronicles
---