This Week On Angler Chronicles
Posted by admin on February 15, 2017
Join Sergio, Captain Larry Moore and the Angler Chronicles crew as they participate in the 10th  annual Casting4Souls charity event in Los Barilles, East Cape, Baja.  Fishers of Men, West Coast, teamed up with Soles4Souls to provide thousands of pairs of shoes for the local residents.  This is definitely a "give back" program to the very deserving and needy local residents.
Fishing was great as always in East Cape as Sergio, Captain Larry Moore, Rhonda Fainsztein and Jen Casey saw lots action for Yellowfin Tuna, Wahoo and Dorado.
Don't miss this week's exciting episode of Angler Chronicles "A Decade of Giving."  Always great family entertainment.
Sunday, February 19  – 8:30 a.m. – FOX Sports West
Tuesday – February 21 – 2:00 p.m. – FOX Sports West
Sunday, February 26 – 8:00 a.m. – FOX Sports West
Also via satellite on DirecTV and DishNetwork throughout all North America
---
Posted by admin on February 6, 2017
Description:
Topic: Fresh Water Updates
Ideas for bass fishing
Single Hook replacement 
Guests: Steve Carson
Call in guest: Rich Lingor
---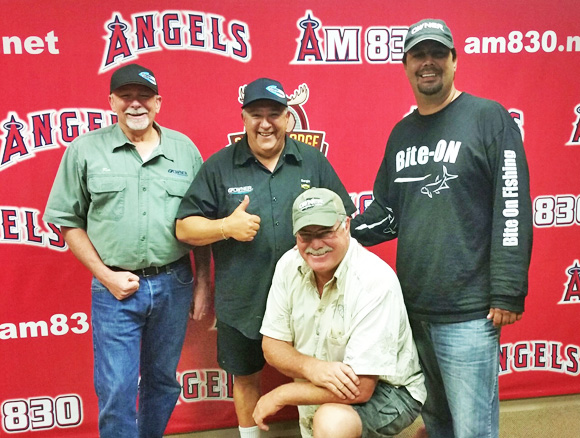 Join Sergio & the Crew: Ron Hobbs (Owner Hooks Fishing Schools Instructor), Capt. Larry Moore and Tony Williams (Bite-On Fishing) every Saturday morning on Radio Outdoor Expeditions from 5:00-7:00 AM PST on AM 830 KLAA. "LIVE" from Angel Stadium in Anaheim, CA. ... Tune in or you can also join us "LIVE" on the web at: www.am830.net
Get all the latest news on fishing our local waters directly from the captains! 
---
The Angler's Edge to Catch More Fish!

Thanks for joining us. Come back often for the latest fishing news on and off the water. Our Sports Media Franchises: TV, Radio, Internet, & Social Media, provide you with an arsenal of information to give you an edge! ... From hot new baits to tips and techniques to keep your deck hopping, Angler Chronicles has got you covered. So click around and lets us know what you think and we'll see you on the water - Angler Chronicles
---